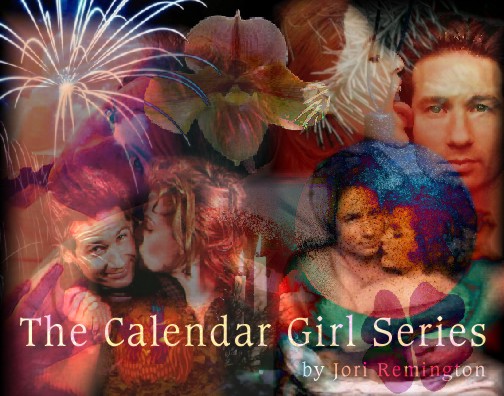 ---
NOTE: THIS IS A RESTORED ARCHIVE OF THE ORIGINAL PAGE.
DESIGN, ART WORK, STORIES AND CHARACTERS ARE COPYRIGHT THE ORIGINAL CREATORS.
NO PROFIT IS BEING MADE FROM THE WRITING OR HOSTING OF THIS SERIES.
---
The Calendar Girl Series I
It all began on Christmas Day 1998. Mulder and Scully have definitely discovered a wonderful way to celebrate the holidays throughout 1999! This Series is written from Mulder's POV and explores their changing relationship as they pass major holidays and milestones. Most of these stories can be considered NC-17, so if you are underage, turn back. I mean it.
December
BLUE LIGHT SPECIAL- Mulder's real Christmas present comes shortly after Scully hands him that little wrapped package after 'How The Ghosts Stole Christmas.' They spend their first night together under shimmering blue Christmas lights before meeting one of the Scully brothers. NC-17

January
CHIMES- A continuation of my "Blue Light Special" story, this one takes place over New Year's Eve and day, with Bill Scully dropping by for a guest appearance. NC-17

February
GREENHOUSE EFFECT - Mulder and Scully break free from doing background checks to go 'investigate' an exotic flower grower in Florida. Smut follows. This story line would take place after Tithonius, but before Two Fathers. And there is no such person as Diana Fowley. NC-17

March
EVER GREEN - After the events of One Son and Arcadia, Mulder and Scully try to get their relationship back on track. NC-17

April
SPRING AHEAD - Set immediately after the events of Alpha, Scully sends Mulder on an Easter egg hunt with a surprise at the end. NC-17


BROKEN SOUND - After the events of Milagro, Mulder and Scully race against time and the elements to find a missing boy. NC-17
May
TREASURED - Mulder explores Scully's past at her mother's house on Mother's Day. NC-17 NC-17.


KNOWN BUT TO GOD - Over Memorial Day weekend, Mulder is haunted by a mysterious visitor in his 'sleep' who says that only he can help him. NC-17
June
THE VERY BEST - Mulder discovers one of those 'holidays' that seems to be invented by a 'card company,' and makes a mistake which he later tries to rectify. NC-17

July
SUMMER DREAMS - Over the Fourth of July weekend, Mulder is presented with the opportunity to give Scully everything she wants. Can he? And is it what she really wants? NC-17

September
THE SCIENCE OF LOVE - Mulder and Scully spend Labor Day weekend helping a fellow agent out on a case and learn more than they ever wanted about the 'science of love.' NC-17


MAKING AMENDS - Mulder and Scully deal with Skinner's discovery of their true relationship. NC-17
October
SIX BILLION - Mulder celebrates his 38th birthday. NC-17
HEART OF THE MATTER - Set right before the events of Biogenesis, Mulder and Scully investigate an unusual occurrence in an empty house on Halloween night. NC-17
November
RIGHT VOICE - Set during Sixth Extinction, Mulder is faced with several options. R
TIDES - In the last chapter of the Calendar Girl Series, Mulder discovers all the reasons to live this life. NC-17

January 2000
FULL CIRCLE - Mulder and Scully celebrate the new millennium and 'one year' together. NC-17

Continue to the CALENDAR GIRL II stories!

---
xhumingpotatoes.com • Jori's Disclaimer
Permission to reproduce this work was unable to be obtained, please view the About page for further information about this project.